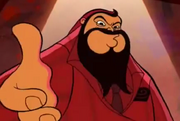 Big D is a major character who appears in the episode "The Devil and Lil' D". He made a deal with Li'l D where he would sign a contract to become a music star. As Li'l D sign the contract, he gave his soul to Big D in the contract. Big D also participated in the song "We Want Your Soul". Towards the end of the episode, Li'l D managed to break out of the contract with the help of Sunny Bridges and because of this he lost the deal.
Trivia
[
]
It's implied Big D truly is the devil, but only for the music industry.
He claimes to Li'l D his nickname came from "Dwight".